Transport update
3rd February 2020 
On 3rd February 2020, the Minister for the NDIS, Stuart Robert, announced that from 1st March 2020, Core Support funding could be used to claim for transportation to and from NDIS funded community-based activities. This is in addition to the time of the support worker, for which they can already claim.
This change allows service providers to claim for transportation costs for NDIS funded activities provided they remain within the price caps. A service provider can claim up to $0.85 a kilometre for a standard vehicle not modified for accessibility and up to $2.40 a kilometre for a vehicle that is modified for accessibility or a bus. Other forms of transport or associated costs can be claimed up to the full amount, such as road tolls, parking, public transport fares.
The updated NDIS Price Guide and Support Catalogue will become available in the coming weeks.
To find out more or if you have any questions, please don't hesitate to contact us on 1300 800 110 or email us at manager@idealplan.com.au.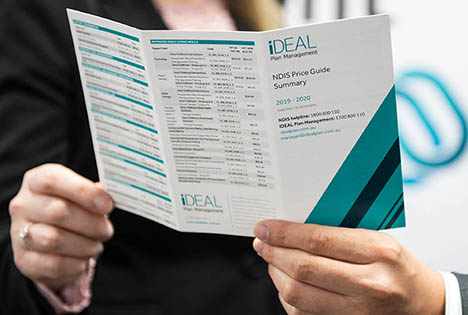 New Pocket Price Guide
1 December 2019 
The NDIA has released a revised 2019-2020 NDIS Price Guide.
A few changes have been implemented that will be effective 1st of December 2019, including an additional 6 areas reclassified as remote, new price limits to Short Term Accommodation, and the introduction of Medium Term Accommodation and new supports items for Dietitians.
IDEAL Plan Management has updated our pocket-sized price guides to include these adjustments, ensuring that you receive the most recent support catalogue for services under the NDIS.
Contact us and we would be more than happy to send you some of the new price guides!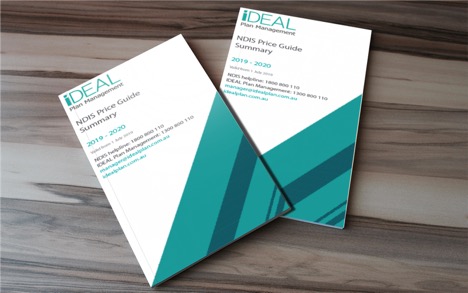 Pocket Price Guide
28 June 2019 
The NDIA has launched the new NDIS price guide for 2019-2020
IDEAL Plan Management is back with the updated pocket-sized NDIS price guide.
These pocket-sized price guides are perfect for carrying around so that you can quickly and easily find out the updated unit price for various supports and services under the NDIS.
Contact us and we would be more than happy to send you some of the price guides!